With the increased cases of COVID-19 in Nigeria and West Africa, we have received several requests for the possible transfer of positive COVID-19 patients within Nigeria and outside the country.
While these requests are not unusual, there was a challenge that prevented us from providing the required service. The challenge: there was absolutely no biological isolation chamber (Isopod) in the whole of West Africa.
WHAT IS AN ISOPOD?
The isolation pod, better described in the medical field as the biological isolation transport unit, is a transparent temporary shelter used to provide medical isolation for patients with infectious diseases. They are capsules primarily used to provide isolation when transporting patients by either air or land. The Isopod is designed to enable an efficient air transfer of patients with highly contagious diseases, like the COVID-19, while ensuring the absolute safety of both the medical and aviation crew.
Historically, isolation devices were developed in the 1970s for the aerial evacuation of patients to destinations of medical care. To date, they remain an effective device used across the globe to transfer patients with infectious diseases.
The biological isolation chamber is designed with a modern negative pressure filtration system that provides maximum protection and operational safety for both the infectious disease patient and the operational team that would be responsible for patient transport and management in-flight.
Unique isopod features include:
A chamber liner made from a special TPU film strengthened by inserting ABS poles along each side of the structure
An all-round zipper system that allows for the chamber to be easily opened and for care to be administered to patients effectively
Ten integrated glove portals on three sides of the chamber to enable easy access to patients and 2 utility portals used for infusions and other medical equipment
A belt system that allows patient to be fastened while in the chamber or the chamber securely fastened to our stretcher.
Option of either a folding stretcher or stretcher trolley, which enables patients to be moved easily
Reusable unit with compact storage when not in use
Special filters that allow patients to stay for long hours making short and long-distance travels possible.
These features are particularly crucial as they enable seamless assessment of patients without the risk of getting infected. Additionally, the inbuilt portal system makes treatment and monitoring of the patient from the outside possible.
WHY THE ISOPOD IS CRITICAL FOR COVID-19 EVACUATIONS
Patients who have tested positive to infectious diseases such as the COVID-19 can only be transported where there is a barrier between the healthcare providers and such patients. Such transportation process will also require extensive use of personal protective equipment – PPE – from evacuation to arrival and admission. There is also the emotional trauma caused by fear and loneliness as the evacuee is mostly always transported without any family or friends close by. This has also significantly hampered the evacuation of foreign nationals resident in Nigeria who are desirous of returning to their home countries, or some other locations, to get preferred medical care.
An isolation pod significantly reduces the need of PPE as it would only be needed during the loading and unloading of the patients. During the flight, the built in-gloves in the isolation pod can be used by the flight doctor to attend to the patients as required. Because of the safety of the Pod, a patient can also be accompanied by designated friends or family without the fear of cross infection. The presence of a familiar face will be reassuring and comforting – reducing and potential fear that the patient may have.
…SO, WE BROUGHT AN ISOPOD TO WEST AFRICA
Yesterday was a remarkable day in our history as an organisation as we unveiled the latest addition to our impressive catalogue of medical equipment: the isolation pod. Our isolation pod is the first and only equipment of such in the whole of West Africa.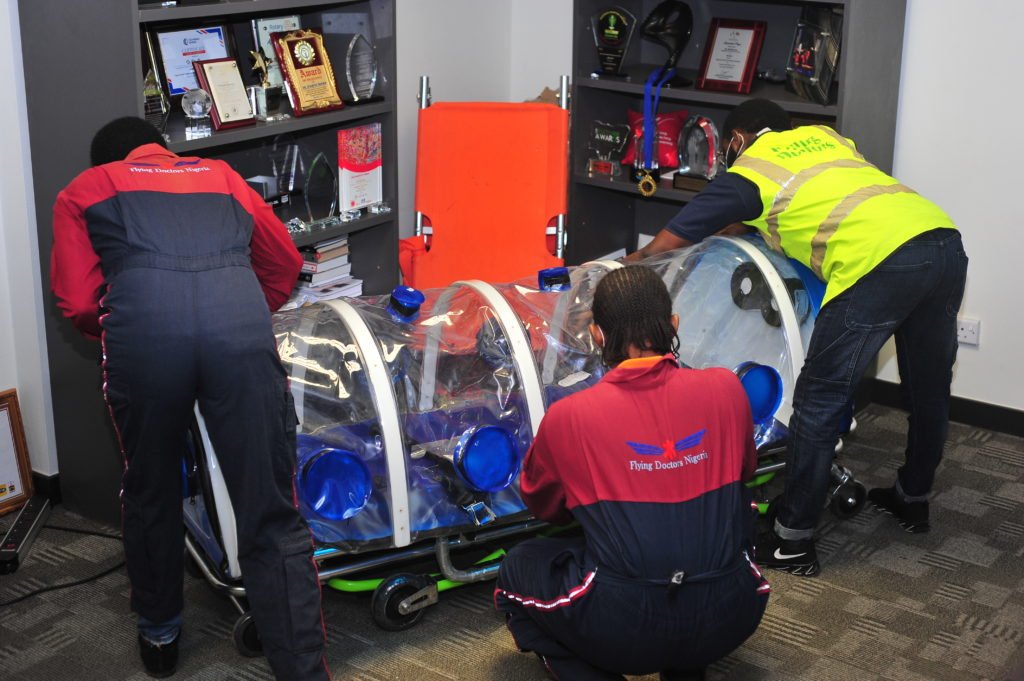 Here's what our Medical Director, Dr Jibayo Oyedele said at the private unveiling event yesterday: our focus has always been to ensure that exceptional healthcare services are available to people in their locations of choice. With this Isolation pod, we are now able to evacuate and transport COVID-19 patients to their preferred destination to access medical care without the risk of cross-infection to the medical and aviation crew.
FLYING DOCTORS NIGERIA UNVEILS WEST AFRICA'S FIRST ISOLATION POD
Following the implementation of a standard suiting process specific to COVID-19 operations, and the rigorous training of our medical and aviation crew, medical evacuation with the isopod is now available to the public. We are able to repatriate patients within Nigeria, to their home countries as well as to suitable third-country jurisdictions with the requisite and available healthcare capacity and capabilities for further treatment.
Flying Doctors Nigeria (FDN) is a Medical Emergency Service that specializes in air ambulances, medevac, medico-logistics services, remote site medical solutions services, medical infrastructural development as well as medical training services. It is an award-winning organization and the the first indigenous Air Ambulance in West Africa.